The water filter or spray effectively catches the particles in a stream of water and then flushes them through a water filtration system.
A separate circulation pump moves water from a basin and flows the water through a series of nozzles.

As the exhausted air passes through this waterfall or spray, the larger paint particles are caught by the water and held in the stream. The water then falls into a catch basin to be reused.
Generally, the basin is equipped with a series of overflow containers in which the heavier particles can be removed from the water before reentering the circulation pump.
Frequency of changing the water is recommended at ONCE a week to clean the paint waste built up in the basin.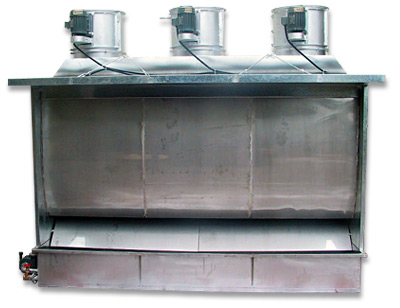 Model 
Working Width (mm)
Exhaust Fan 
Water Pump 
Packing size (cm)
N.W. (kg) 
G.W. (kg) 
A
B
SF-08
2500
2400
2HPx2pc
2HP
265*88*165
800
900
SF-10
3100
3000
2HPx2pc
2HP
338*85*205
1000
1150
SF-12
3700
3600
2HPx3pc
3HP
395*88*165
1200
1350
SF-16
4900
4800
2HPx3pc
3HP
505*88*165
1600
1800