San Ford Machinery Co., Ltd., established in 1963, has done the experienced export for over 40 years and been involved in antipollution system for over 50 years. During these years, we have expanded our capacity and developed a series of products. These products include bag filter and dust collecting system, portable dust collector, one stage dust collector, two stage cyclone, blower, sanding dust collecting table, air cleaner, dry spray booth, water spray booth, whole plant equipment of sanding dust heat compression machinery, steam heating type lumber drying chamber, and air/water cooling & drying unit etc. Our customers come from all over the world, including the USA, Mexico, Canada, France, Germany, UK, Spain, Italy, Czech Republic, Latvia, Russia, Africa, Korea, Japan, Taiwan, China and East South of Asia and Australia etc.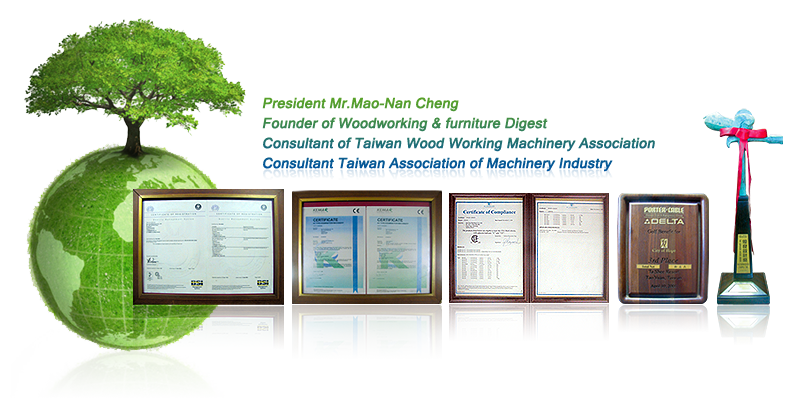 We have built the excellent reputation by good design and the best quality. These rewards are as follows:
1991
TAIPEI GOOD WOODWORKING MACHINERY DESIGN AND PRODUCT COMPETITION " SANDING DUST COLLECTING TABLE" in the category of Woodworking Machinery Perimeter.
(Taiwan Woodworking Machinery Association / TWMA)
1992
GOOD PRODUCTS "PORTABLE DUST COLLECTOR" (TWMA)
1997
Qualified supplier of Delta Machinery (USA)
1999
INTERWOOD TAIPEI THE SUPERIOR DESIGN AWARD. (TWMA, TANH, CETRA)
Operate a Quality Management System which complies with the requirement of BS EN ISO 9001 (BSI FM 45558)
Products Approval of CSA and CE
2000
Sponsor of USA "CITY OF HOPE"
2003
Revised issue ISO 9001:2000 (BSI FM 45558)
Qualified supplier of Grainger (USA)
2004
Launch Antipollution products for Metalworking industrial. Qualified supplier of Sears (USA)
2005
Qualified supplier of Black & Decker (USA)
2006
Launch Products confirming to the ROHS and ATEX standard
All of our products have gotten the CSA and CE approval to ensure the best quality. The customers choose us not only for the reason we could meet their criterion, but also our products were easy to be handled by operation, maintenance and dependability due to the simplicity of design, quality and consistency etc. Contact us now for the superior quality products and the competitive prices.