Pneumatic cartridge filters system, where the cartridge filters have a 1 micron filtration capacity which is over six times the traditional filter bags
Including individual access doors for each filter module, requiring low maintenance.
Newly designed dump trucks incorporated, where a rail-like system is used for simple slide-out action for convenient emptying of the trucks. 
A vacuum bag suction device maintains a negative pressure in the space between the dump truck and the collection bag to grip the collection bag down, preventing it from being sucked up.
With the fire emergency sprinkler and anti-explosion vents for absolute safety precautions.
專利認證
US PATENT PENDING
EU-PAT NO. 000472253-0001
CH PAT-NO. 200520113132.1, ZL200530121166.0, ZL200820131173.7
GERMANY PAT-NO. 202009004689.3, 202009003618.9
TW-PAT NO. M282738, M283678, M284434, D112619, M344914, M360280, M355998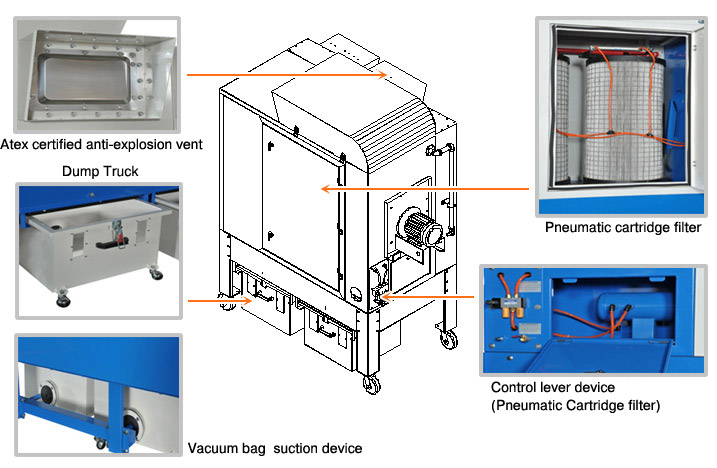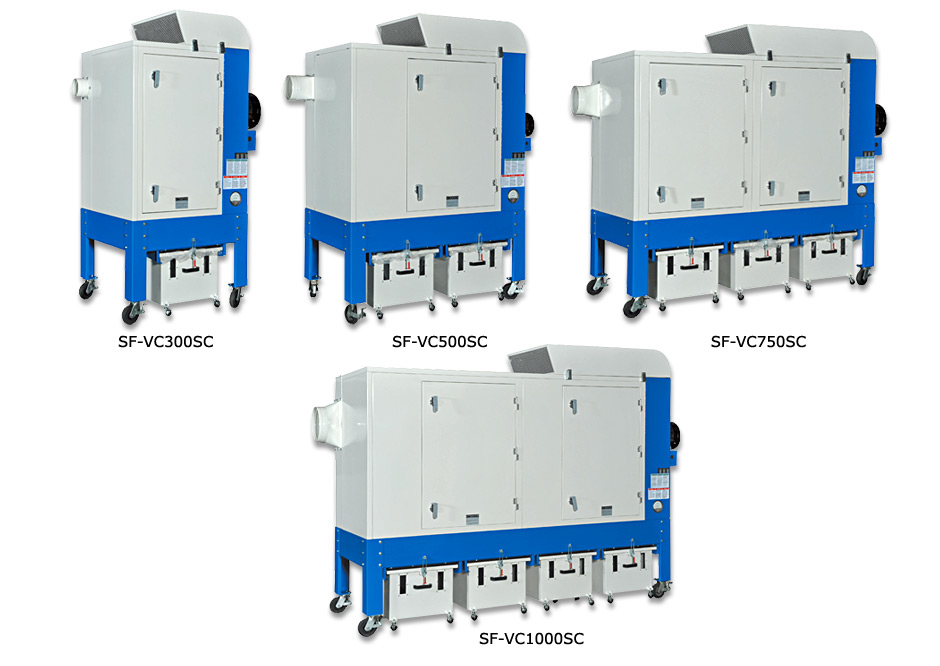 Model
Motor
HP
Air Speed
m/sec
Air Delivery
m³/min
CFM
ft³/min
Air suction

Air inlet adapter

Filter Bag
Lower Bag
Space occupied
cm
Packing size
cm
N.W.
kg
G.W.
kg
SF-VC300SC
3
35
38
1362
152(6")
152(6")x 1
Φ51
 x 1
153 x 119 x 233
148 x 101 x 208
370
400
SF-VC500SC
5
30
58
2074
203(8")
203(8") x 1
Φ51
 x 2
215 x 119 x 233
202 x 101 x 208
525
565
SF-VC750SC
7.5
30
91
3250
254(10")
254(10") x 1
Φ51
 x 3
280 x 119 x 233
267 x 101 x 208
730
780
SF-VC1000SC
10
29
128
4558
305(12")
305(12") x 1
Φ51
 x 4
347 x 119 x 233
335 x 101 x 208
835
915