Powerful motor to filter the dust from the air of your working environment efficiently.
Protection on the inlet and outlet of the blower to ensure safe usage.
Easily assembled in 10 minutes!
Quick bag clamp for simple hassle-free replacement of dust bags.
Blower can swivel 180 ̊ to your desire.
Patent protected
US-PAT. NO. D518610S, D502297S, D501964S, 71217307, D533694
TW-PAT.NO. D104958, M268102, 90302, 90273, 242286, M264006, D112456
CH-PAT.NO. ZL200430065240.7, ZL200420005972.1, ZL03309601.5, ZL033096023, ZL03265188.0
EU-PAT.NO. 202004013403.9, 000214325-0001
FRANCE PAT. NO. 04.11443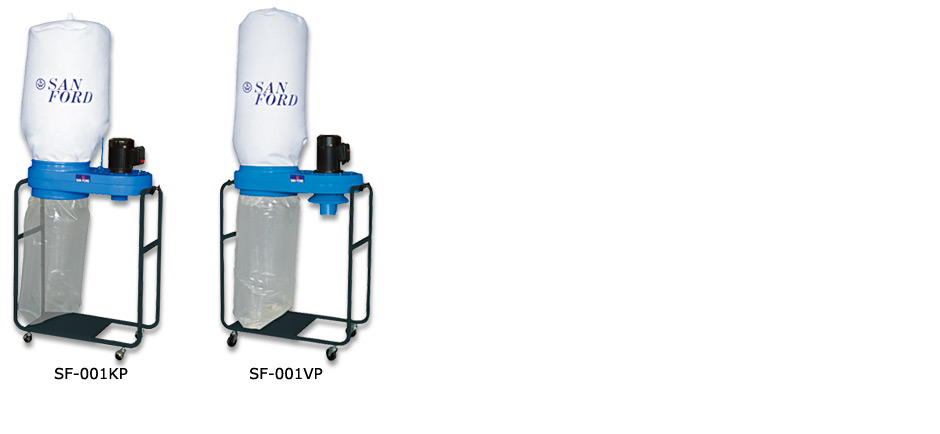 Model
Motor
HP
Air Speed
m/sec
Air Delivery
m³/min
CFM
ft³/min
CMH
m³/hr
Air suction
mm
Air inlet adapter
mm
Filter Bag
cm
Lower Bag
cm
Space occupied
cm
Packing size
cm
N.W.
kg
G.W.
kg
SF-001KP
1
32
16
550
934
100 (4")
100 x 1hole
Φ45
Φ38
75*38*185
79*43*39
36
38
SF-001VP
1.5
36
27
972
1651
125 (5")
125 x 1hole
100 x 1hole
Φ51
Φ42
90*48*210
93*51*46
42
45
SF-002VDU
2
29
43
1550
2633
175 (7")
100 x 2holes/
100 x 3holes
Φ45
Φ42
144*48*220
143*53*54
58
60
SF-003VDU
3
31
61
2170
3687
200 (8")
100 x 4holes
Φ55
Φ52
168*58*280
169*62*56.5
80
85
SF-005VDU
5
29
89
3165
5377
250 (10")
125 x 4holes
Φ61
Φ65
190*67*280
194*74*58
111
119
SF-005VPU
5
29
89
3165
5377
250 (10")
125 x 4holes
Φ15
Φ65
190*67*280
194*74*58
111
119