Powerful motor to filter the dust from the air of your working environment efficiently.
PProtection on the inlet and outlet of the blower to ensure safe usage.
PEasily assembled in 10 minutes!
PQuick bag clamp for simple hassle-free replacement of dust bags.
PBlower can swivel 180 ̊ to your desire.

Model
Motor
HP
Air Speed
m/sec
Air Delivery
m³/min
CFM
ft³/min
CMH
m³/hr
Air suction
mm
Air inlet adapter
mm
Filter Bag
cm
Lower Bag
Packing size
cm
N.W.
kg
G.W.
kg
SF-060
5
26
112
3979
6760
300 (12")
125 x 5holes
Φ40*180*6
Φ65*135*2
113*89*76
155*108*39
100
120
120
130
SF-070
7.5
33
170
6021
10230
330 (13")
125 x 6holes
Φ40*180*8
Φ65*135*3
113*95*76
216*108*39
140
140
160
150
SF-080
10
32
215
7630
12963
380(15")
125 x 8holes
Φ40*180*12
Φ65*135*4
113*110*76
155*108*39*2pc
160
80
190
90

Model
Motor
HP
Air Speed
m/sec
Air Delivery
m³/min
CFM
ft³/min
CMH
m³/hr
Air suction
mm
Air inlet adapter
mm
Filter Bag
cm
Lower Bag
Packing size
cm
N.W.
kg
G.W.
kg
SF-006
5
26
112
3979
6760
300 (12")
125 x 5holes
Φ15*180*24
Φ65*135*2
113*89*76
155*108*50
90
80
110
90
SF-007
7.5
33
170
6021
10230
330 (13")
125 x 6holes
Φ15*180*36
Φ65*135*3
113*95*76
218*109*50
140
120
160
130
SF-008
10
32
215
7630
12963
380(15")
125 x 8holes
Φ15*180*48
Φ65*135*4
113*110*77
155*108*50*2pc
160
80
190
90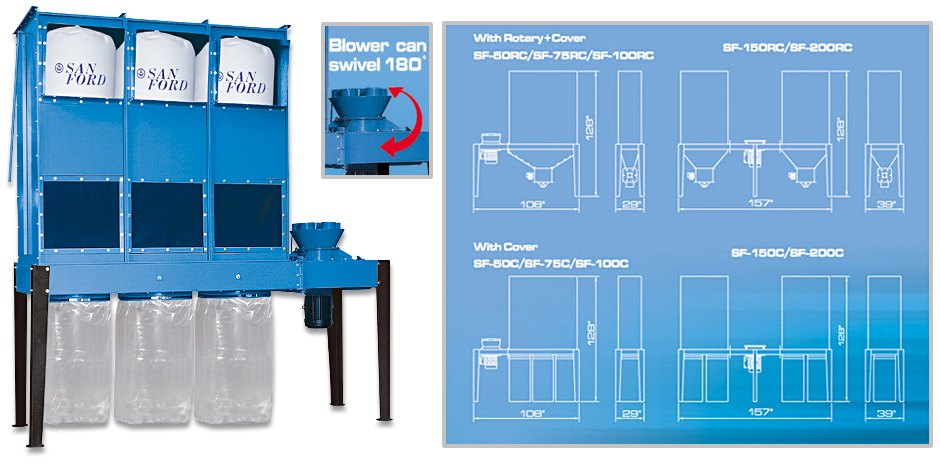 Model
Motor
HP
Air Speed
m/sec
Air Delivery
m³/min
CFM
ft³/min
CMH
m³/hr
Air suction
mm
Air inlet adapter
mm
Filter Bag
cm
Lower Bag
Packing size
cm
N.W.
kg
G.W.
kg
SF-50C
5
31
93
3300
5607
250 (10")
125 x 5holes
Φ61*180*3
Φ61*160*3
88*94*76
213*82*39
213*107*40
110
110
85
130
120
90
SF-75C
7.5
31
134
4750
8070
300 (12")
125 x 6holes
Φ61*180*3
Φ61*160*3
88*94*76
213*82*39
213*107*40
110
110
85
130
120
90
SF-100C
10
33
144
5100
8665
300 (12")
125 x 8holes
Φ61*180*3
Φ61*160*3
88*94*76
213*82*39
213*107*40
110
110
85
130
120
90
SF-150C
15
32
248
8800
14951
405 (16")
125 x 10holes
Φ41*180*12
Φ61*160*4
113*110*83
152*108*40*2
215*108*50
160
80
160
190
90
165
SF-200C
20
35
269
9550
16226
405 (16")
125 x 12holes
Φ41*180*12
Φ61*160*4
113*110*83
152*108*40*2
215*108*50
160
80
160
190
90
165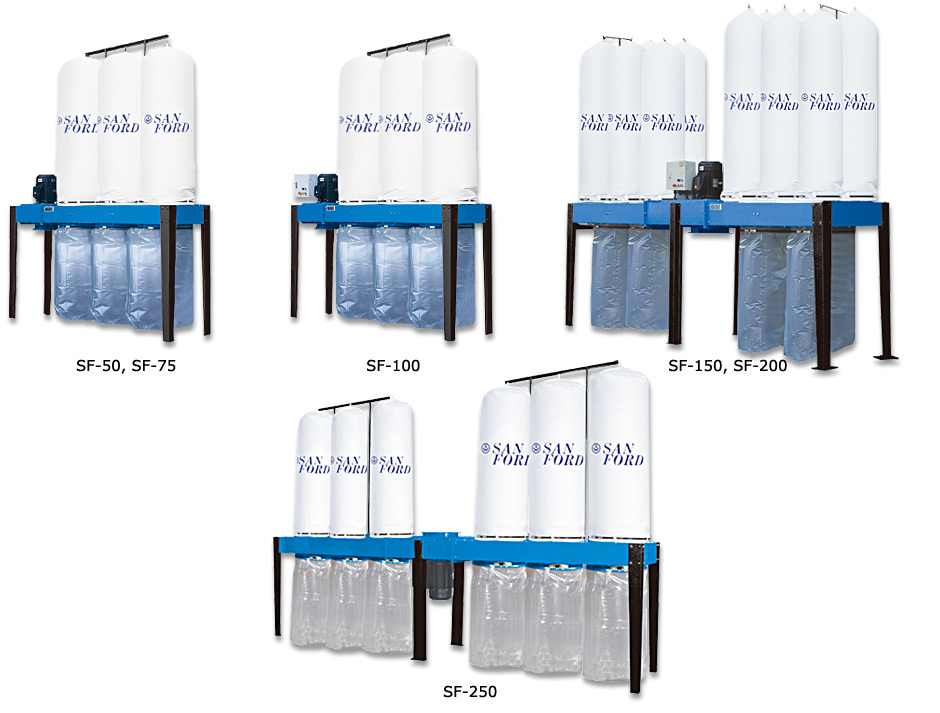 Model
Motor
HP
Air Speed
m/sec
Air Delivery
m³/min
CFM
ft³/min
CMH
m³/hr
Air suction
mm
Air inlet adapter
mm
Filter Bag
cm
Lower Bag
Packing size
cm
N.W.
kg
G.W.
kg
SF-50 
5
31
93
3300
5607
250 (10")
125 x 5holes
Φ61*180*3
Φ61*160*3
88*77*76
211*82*39
130
120
150
130
SF-75 
7.5
31
134
4750
8070
300 (12")
125 x 6holes
Φ61*180*3
Φ61*160*3
88*77*76
211*82*39
130
120
150
130
SF-754
7.5
31
134
4750
8070
300 (12")
125 x 6holes
Φ51*180*4
Φ51*160*4
88*77*76
211*82*39
130
120
150
130
SF-100 
10
33
144
5100
8665
300 (12")
125 x 8holes
Φ61*180*3
Φ61*160*3
88*77*76
211*82*39
130
120
150
130
SF-1004 
10
33
144
5100
8665
300 (12")
125 x 8holes
Φ51*180*4
Φ51*160*4
88*77*76
226-82-36
60*60*25
140
130
7.5
160
140
9
SF-150 
15
32
248
8800
14951
405 (16")
125 x 10holes
Φ41*180*12
Φ61*160*4
113*110*81
151*108*39
160
80
190
90
SF-200 
20
35
269
9550
16226
405 (16")
125 x 12holes
Φ41*180*12
Φ61*160*4
113*110*83
151*108*40
63*63*21
160
80
10
190
90
11
SF-250
25
33
326
11550
19624
455 (18")
125 x 14holes
Φ61*180*6
Φ61*160*6
113*110*92
220*107*41*2pc
260
120
270
130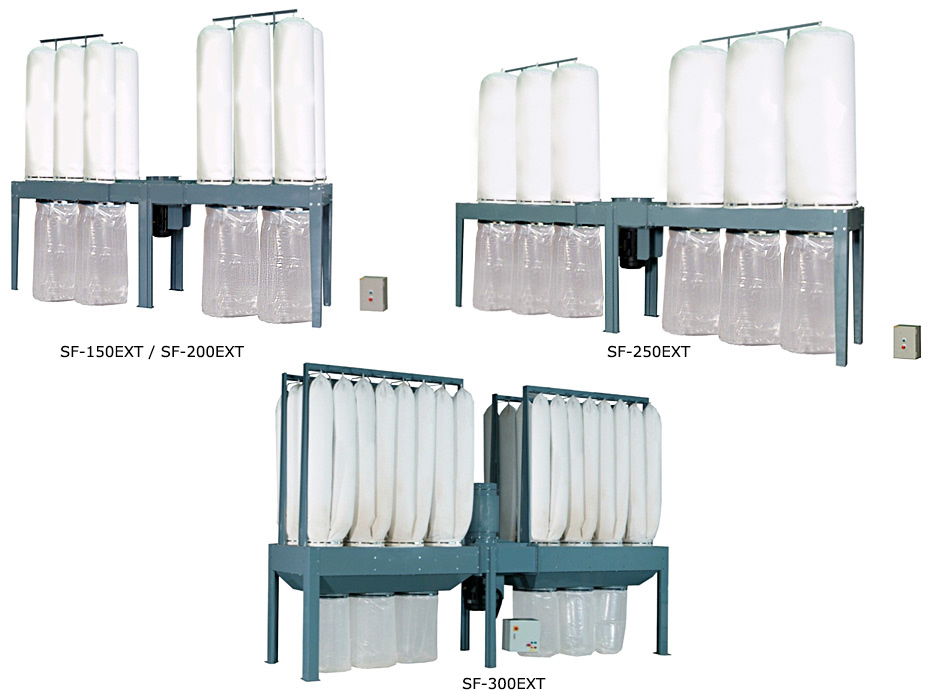 Model
Motor
HP
Air Speed
m/sec
Air Delivery
m³/min
CFM
ft³/min
CMH
m³/hr
Air suction
mm
Air inlet adapter
mm
Filter Bag
cm
Lower Bag
Packing size
cm
N.W.
kg
G.W.
kg
SF-150 EXT
15
32
248
8800
14951
405 (16")
405 x 1hole
Φ41*180*16
Φ61*160*6
113*110*81
151*108*39
160
80
190
90
SF-200 EXT
20
35
269
9550
16226
405 (16")
405 x 1hole
Φ41*180*16
Φ61*160*6
113*110*83
151*108*40
63*63*21
160
80
10
190
90
11
SF-250EXT
25
33
326
11550
19624
455 (18")
455 x 1hole
Φ61*180*8
Φ61*160*8
113*110*92
220*107*41*2pc
260
120
270
130
SF-300EXT
30
34
416
14751
25062
500 (20")
500 x 1hole
Φ51*200*16
Φ61*135*6
113*110*92
220*107*41*2pc
260
120
270
130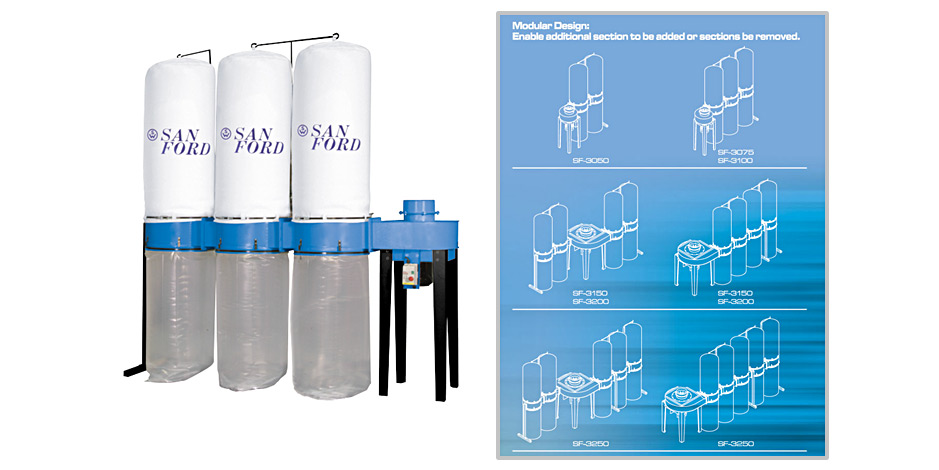 Model
Motor
HP
Air Speed
m/sec
Air Delivery
m³/min
CFM
ft³/min
CMH
m³/hr
Air suction
mm
Air inlet adapter
mm
Filter Bag
cm
Lower Bag
Packing size
cm
N.W.
kg
G.W.
kg
SF-3050
5
31
94
3334
5665
250 (10")
250 x 1hole
Φ61*150*2
Φ61*160*2
75*72*77
144*64*37
90
60
110
65
SF-3075
7.5
31
134
4750
8070
300 (12")
300 x 1hole
Φ61*150*3
Φ61*160*3
75*72*77
186*74*43
110
75
130
85
SF-3100
10
33
144
5100
8665
300 (12")
300 x 1hole
Φ61*150*3
Φ61*160*3
75*72*77
186*74*43
110
75
130
85
SF-3150
15
41
248
8816
14979
350 (14")
350 x 1hole
Φ61*150*4
Φ61*160*4
127*123*90
148*63*69
260
130
280
150
SF-3200
20
37
288
10220
17364
405 (16")
405 x 1hole
Φ61*150*4
Φ61*160*4
127*123*90
148*63*69
260
130
280
150
SF-3250
25
36
357
12664
21516
455 (18")
455 x 1hole
Φ61*150*5
Φ61*160*5
127*123*90
178*63*69
260
150
280
170
SF-3150S
15
41
248
8816
14979
350 (14")
350 x 1hole
Φ61*150*4
Φ61*160*4
127*123*90
148*63*69
260
130
280
150
SF-3200S
20
37
288
10220
17364
405 (16")
405 x 1hole
Φ61*150*5
Φ61*160*5
127*123*90
148*63*69
260
130
280
150
SF-3250S
25
36
357
12664
21516
455 (18")
455 x 1hole
Φ61*150*6
Φ61*160*6
127*123*90
178*63*69
260
150
280
170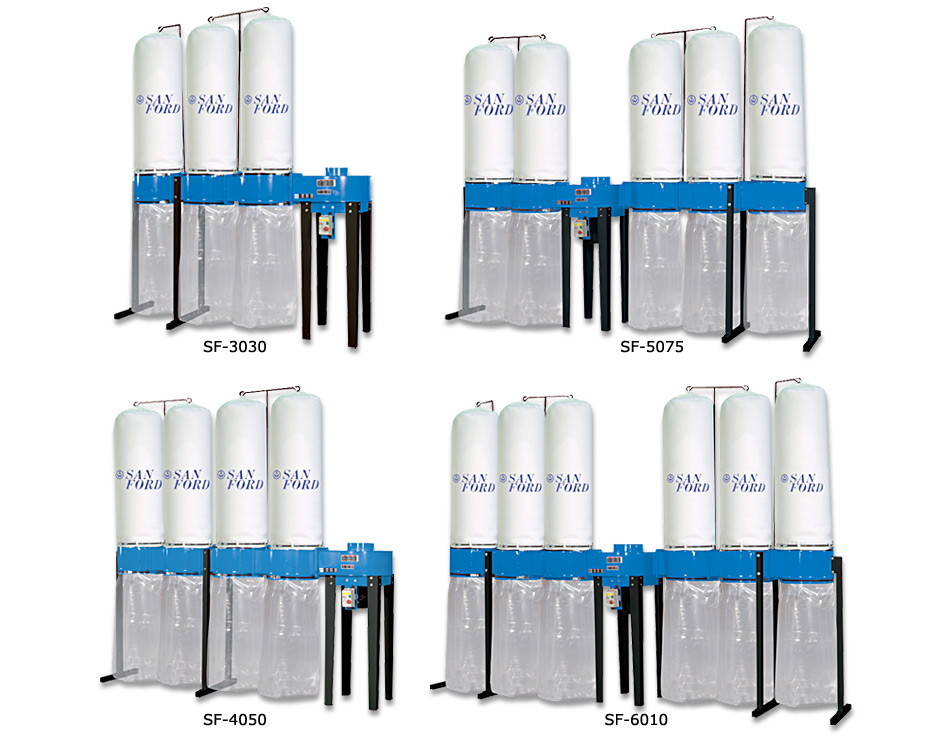 Model
Motor
HP
Air Speed
m/sec
Air Delivery
m³/min
CFM
ft³/min
CMH
m³/hr
Air suction
mm
Air inlet adapter
mm
Filter Bag
cm
Lower Bag
Packing size
cm
N.W.
kg
G.W.
kg
SF-3030
3
27
81
2900
4927
250 (10")
250 x 1hole
Φ51*150*3
Φ51*160*3
74.5*68.5*73
179.5*52*48
70
71
71
72
SF-4050
5
31
94
3334
5665
250 (10")
250 x 1hole
Φ51*150*4
Φ51*160*4
74.5*68.5*76.5
124*52*69.5
149*28*12.5
76
69
14.5
77
70
15
SF-4075
7.5
31
134
4750
8070
300 (12")
300 x 1hole
Φ51*180*4
Φ51*160*4
78*71*82
204*65*46
114
110
115
112
SF-5075
7.5
31
134
4750
8070
300 (12")
300 x 1hole
Φ51*180*5
Φ51*160*5
67.5*71*80
35*63*80
114
110
115
112
SF-5010
10
33
144
5100
8665
300 (12")
300 x 1hole
Φ51*180*5
Φ51*160*5
78*71*82
156*55*78
114
122.5
115
123.5
SF-6010
10
33
144
5100
8665
300 (12")
300 x 1hole
Φ51*150*6
Φ51*160*6
66*73*80
153*65*81.5
114
122.5
115
123.5