Optional exchangeable outer filter attracting more dust than the standard; with easy removeable inner filters for simple cleaning.
Remote control with 1, 2, 4, 8 hours time setting; and a maximum of 15 hours.
When the filter material is soiled, the sensor will signal off the buzzer alert and light signal to go off indicating that the filter needs to be changed.
Patent Protected
US-PATENT PENDING
TW-PAT NO. M348920

Model
Motor
HP
Time Settings
(Hours)
Air Delivery
m³/min
CFM
ft³/min
Air suction
mm
Filter Spec.
Remote control
Space occupied
cm
Packing size
cm
N.W.
kg
G.W.
kg
SF-C66
1/8
Max 15
24
850
-
5Micron 31*61*2.5
1Micron 31*61*31
Y
71*61*31
66*36*77
25
31

Quietly cleans and filters the air in your shop while you work. Filtering 98% of all particles 5 micron in size and 85% of all particles 1 micron in size.
Use in conjucntion with a San Ford high quality dust collector for maximum dust control.
Constructed of heavy-duty, power coated metal box and powerful motor and fan for added durability.
With a remote control that can be used to adjust three speeds, timer and power on/off.
Filters are easy to replace with no tools required.
Patent Protected
TW-PAT NO. 520767, 200299, M332814
CH-PAT NO. 00254574.8, ZL200720193937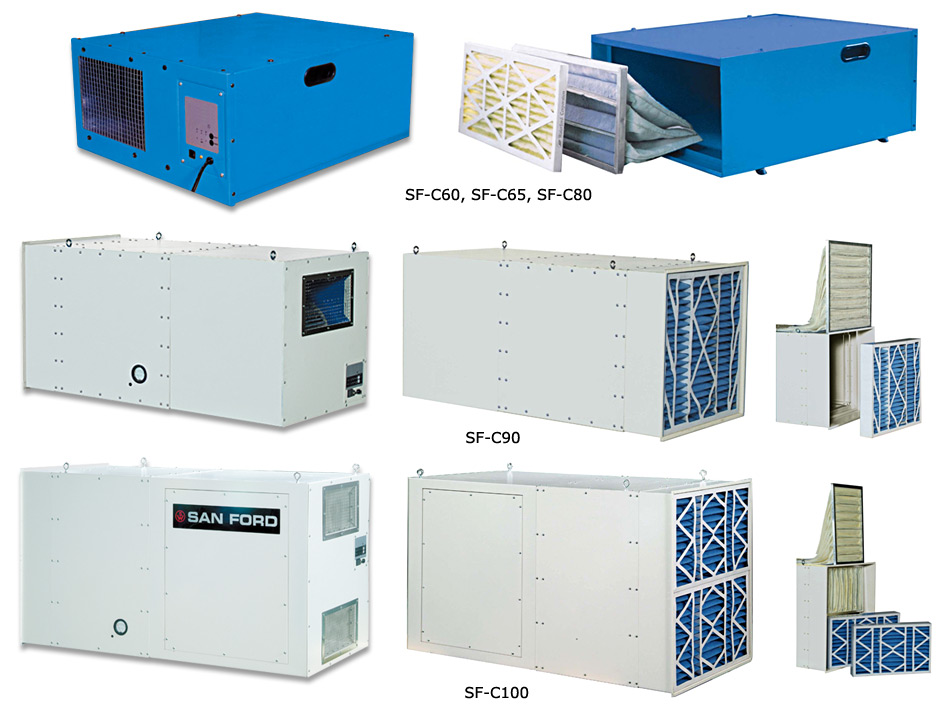 Model
Motor
HP
Time Settings
(Hours)
Air Delivery
m³/min
CFM
ft³/min
Air suction
mm
Filter Spec.
Remote control
Space occupied
cm
Packing size
cm
N.W.
kg
G.W.
kg
SF-C50
1/8
X
11
400
-
5Micron 12*12*1
1Micron 12*12*3B
X
55x35x60
 
18
 
SF-C60
1/8
X
24
850
-
5Micron 31*61*2.5
1Micron 31*61*31
X
71*61*31
66*36*77
25
31
SF-C65
1/8
Max 7.5
24
850
-
5Micron 31*61*2.5
1Micron 31*61*31
Y
71*61*31
66*36*77
25
31
SF-C80
1/5
Max 7.5
L14,M19,H22
L500,M680,H760
-
5Micron 31*61*2.5
1Micron 31*61*31
Y
71*61*31
66*36*77
27
33
SF-C66
1/8
Max 15
24
850
-
5Micron 31*61*2.5
1Micron 31*61*31
Y
71*61*31
66*36*77
25
31
SF-C86
1/5
Max 15
L14,M19,H22
L500,M680,H760
-
5Micron 31*61*2.5
1Micron 31*61*31
Y
71*61*31
66*36*77
27
33
SF-C66X
1/8
Max 15
24
850
-
5Micron 31*61*2.5
1Micron 31*61*31
Y
71*61*31
66*36*77
25
31
SF-C86X
1/5
Max 15
L14,M19,H22
L500,M680,H760
-
5Micron 31*61*2.5
1Micron 31*61*31
Y
71*61*31
66*36*77
27
33
SF-C90
3/4
Max 7.5
50
1800
-
Pleated 61*61*10
Pleated 61*61*53
Y
129*63.5*62.5
68*67*95
88
93
SF-C100
3/4 *2
Max 7.5
84
3000
-
Pleated 41*64*10*2pc
Pleated 41*64*53*9pc
Y
147*66*79
92*75*109
136
146